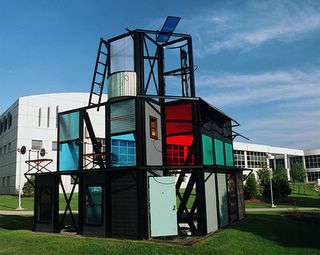 (photo from uni website)
I was just following an old conversation over on sculpture.net and got
caught up in the idea of sculpture theater. I'm not talking here about
sculpture as props for plays. I'm exploring the idea of sculpture
itself as theater set- as part of the dramatic production itself. So I
went to the net and began surfing.
Of course I'd known about Noguchi's collaborations with dance master
Martha Graham. Especially in her "Embattled Garden", the work he
designed actually moved with the dancers and were as important to the
piece as they were. Interestingly enough, there's an exhibit at the
Noguchi Museum right now (until May) of some of the sets he designed
for her.
And in Ohio, the Dublin Arts Council has chosen Xan Palay's piece
"River Play" as their latest "Art in Public Places Project". The idea
excites me. According to their info, Palay has essentially designed an
amphitheater setting with stone floor, steps downward, "backstage" prop
holders, vertical and horizontal beams- as the viewer walks through
it, she becomes an actors. Much like life. The Art Center will be
working with the plantings around it so that they enhance the effect.
This is everything!
The controversial "Stage Set for a Film" at the University of Northern Iowa is a simple, multi-level geometric piece that could, in fact, be used for a minimalist theatre production. A lot of people don't like it- call it a heap of construction scrap. The piece works for what it is but it raises some questions about the whole concept. Is it sculpture? Is it set design misplaced? And what is the difference between the two on this level?
There is, too the Aixioni Sculpture Theater in Athens, but even though
it's call sculpture, I see it more as an architectural project,
as it only provides a setting and viewing platform.
Scupture theater is the ultimate fusion of two of my favorite arts and now that I'm knee deep in this discussion, I can see why there are no clearly defined limits as to what constitutes set design, props and sculpture theatre. I'm obviously over my head in a blog length discussion. But I raise the question and welcome discussion.
And I'll share a dream: I've often fantasized about using lights and projections on various pieces of sculpture I love in Boston as participants in live theater. Of course, I'd write the script.